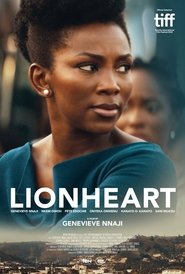 Lionheart
In order to save her father's ailing bus company, competent but perennially overlooked Adaeze must find a way to work alongside feckless uncle Godswill.
Duration: 95 min
Release: 2018
Avalon High
Avalon High
Disney Channel's production of Julie Sherman Wolfe's screenplay adaptation of the popular novel Avalon High by Meg Cabot. Elaine "Ellie" Harrison has just moved from Minnesota to Annapolis, Maryland while…
Hearts Beat Loud
Hearts Beat Loud
In the hip Brooklyn neighborhood of Red Hook, single dad and record store owner Frank is preparing to send his hard-working daughter Sam off to college while being forced to…
James White
James White
James White is a troubled twentysomething trying to stay afloat in a frenzied New York City. As he retreats further into a hedonistic lifestyle, his mother's battle with a serious…
Chaplin
The Student Body
The Student Body
When a brave high school student takes a stand against state-mandated BMI tests of her peers, she finds herself in the middle of a heated national controversy, sparking a battle…
The Legend of Bagger Vance
The Legend of Bagger Vance
World War I has left golfer Rannulph Junuh a poker-playing alcoholic, his perfect swing gone. Now, however, he needs to get it back to play in a tournament to save…
Marguerite & Julien
eHero
eHero
An up-and-coming video gamer faces his greatest challenge yet as he and his team must overcome a fiery gaming superstar, as well as their own battling egos, to win the…
Drunkboat
Drunkboat
After twenty years of broken bottles and empty hallways, Mort Gleason witnesses his nephew Moo being beaten while in a drunken stupor. The short contact with family brings Mort back…
Callejero
Callejero
When an underground boxer is forced to retire, he struggles to find new purpose in his life but cannot hide from his past.
The Incident
The Incident
Shrewdly structured psychological British drama starring Tom Hughes and Ruta Gedmintas as a well-to-do young couple whose comfortable life is disrupted when a troubled teenage girl (Tasha Connor) becomes part…