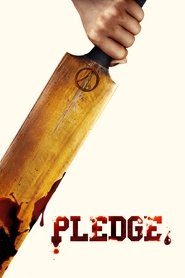 Pledge
Three friends pledge a fraternity that's deadly serious about its secret rituals, turning their rush into a race for survival.
Duration: 77 min
Release: 2018
Death at a Barbecue
Death at a Barbecue
A group of friends get together for a barbecue. They decide to start telling horror stories around the fire. Although not everyone at the barbecue will make it home alive….
Evil Toons
Evil Toons
Four sexy young girls are to clean an old house for the new owners. They get delivered an old book full of magic incantations, and while reading it they accidentally…
Apartment 212
Apartment 212
Jennifer Conrad is a small-town girl starting over in the big city. Fleeing an abusive relationship, all she wants is a chance to begin again. But it is hard to…
Rabid
Rabid
After undergoing radical surgery for injuries from a motorcycle accident, a young woman develops a strange phallic growth on her body and a thirst for human blood — the only…
Lake Placid: Legacy
Lake Placid: Legacy
A group of young explorers discover a secret area hidden from all maps and GPS devices. When they reach the center of the lake, they discover an abandoned facility that…
The Night Watchmen
The Night Watchmen
Three inept night watchmen, aided by a young rookie and a fearless tabloid journalist, fight an epic battle to save their lives. A mistaken warehouse delivery unleashes a horde of…
The Sand
The Sand
Just when you thought it was safe to go back in the water again, you can't even get across the sand! BLOOD BEACH meets SPRING BREAKERS in an ace monster…
The People Under the Stairs
The People Under the Stairs
When young Poindexter "Fool" Williams breaks into the creepy, immense old home of his family's greedy and uncaring landlords, he uncovers a disturbing scenario underneath the stairs.
The Ruins
Backslasher
Backslasher
A social networking slasher, with a supernatural edge and Brit-Horror chic.
The Wicker Man
Dreadtime Stories
Dreadtime Stories
A party turns bizarre when a malevolent book makes its way into the hands of the attendees who reveal its tales of monsters, madmen and the supernatural.